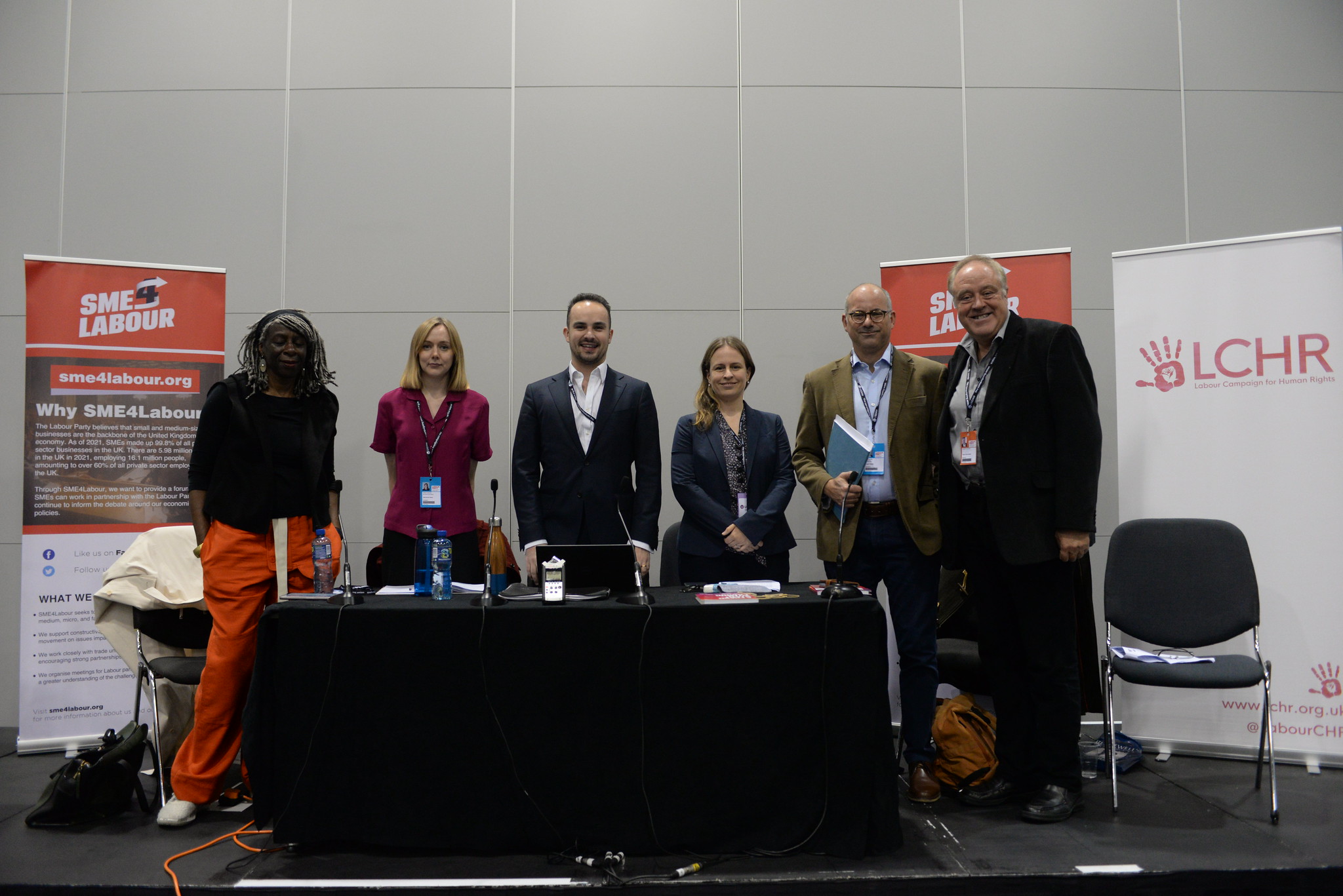 🗓 Date: Sunday, 25 September 2022
⏳ Time: 14:00
📍Location: Lower Galleria Room 1, ACC Liverpool, Kings Dock Street, Liverpool, England, L3 4FP
SME4Labour & CJC and Leigh Day Fringe: Regulating For Rights: Due Diligence, Human Rights And The Environment
Event summary:
We were joined at this panel by Matthew Turner the Chair of the Labour Campaign for Human Rights, Dan Leader from Leigh Day, Crossbench peer Baroness Lola Young, Lise Smit from BIICL, former MEP Richard Howitt and Chloe Cranston from Anti-Slavery international.
Matthew opened by framing the discussion as around the universality of human and labour rights – and why the Labour Party should do as much as it can to protect and promote these rights. Whether through soft power or through tightening up legislation in the UK to ensure that companies cannot profit from violating human rights in the UK.
Chloe noted that the UK was a world leader when we brought in the modern slavery act. Particularly in the fashion sector. However we have increasingly failed to keep pace with organised crime. Chloe pointed out that it has become easier and easier to find legal advice that will keep you in compliance with increasingly irrelevant legislation. Forced Labour and modern slavery are systemic and affect all products and services that we access every day.
Lise explained the recent background of human rights legislation since 2017. She agreed with Chloe that there is too much room for interpretation in current laws. A regulatory checklist is also not sufficient because it encourages these loopholes. These laws must also be enforced, if they are mere abstractions they accomplish nothing.
Dan shared his experience with Leigh Day, working with exploited communities across the globe whose produce often finds its way to UK supermarkets despite nominal legislation prevented this. These abuses and degradations will continue to occur unless the UK government takes action.
Baroness Young discussed the House of Lords role of scrutinising legislation, and why any human rights legislation needs to be water-tight for it to be affective. Lola continued that the impact of historical crimes such as the transatlantic slave trade are keenly felt in this discussion. Lola argued that the lack of transparency on the part of certain businesses has made the issue harder to legislate on, and that fundamentally this has prevented the public outcry you might expect. Lola concluded that this would require grassroots action rather than purely parliamentary action, with people mobilising to oppose chains that profit from forced Labour.
The meeting felt that Labour must prioritise legislation regarding human rights supply chains once we are returned to government. But that this legislation must deal with the practical issues rather than the abstract and must include punitive action against companies that continue to profit from reprehensible practises such as forced Labour or slavery.
Speakers: