Held at the River Bank Park Plaza hotel in Lambeth, the event was attended by over 400 guests. This included over 60 Labour MPs and peers, including several members of the shadow cabinet. They were joined by assembly members, mayors, local councillors and other members of the Labour family, alongside trade union leaders and distinguished figures from the business community.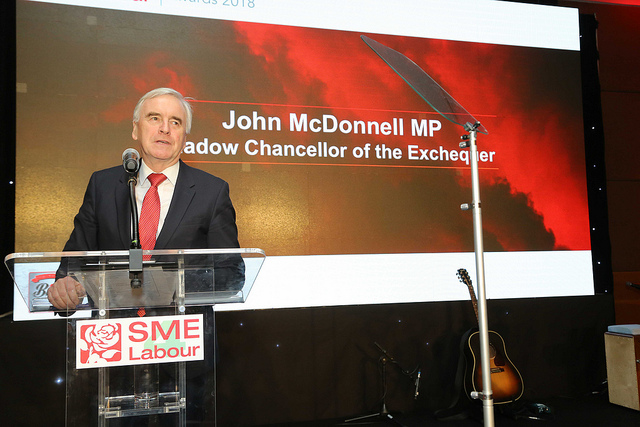 The evening's keynote speeches were delivered by Shadow Chancellor of the Exchequer John McDonnell MP and Mayor of London Sadiq Khan. Speeches were also given by General Secretary Jennie Formby, Shadow Secretary of State for Education Angela Rayner MP, and Shadow Minister for Small Businesses Bill Esterson MP who presented awards, and by Shadow Secretary of State for Women and Equalities Dawn Butler MP, Baronness Shami Chakrabarti and Lord Adonis, who received award the Shadow Cabinet Member of the Year and Peer of the Year awards. The evening was hosted by comedian, broadcaster, and political commentator, Ayesha Hazarika. Entertainment was provided by musician Paul Stanworth, his band and Julia Othmer.
Speaking at the awards, Ibrahim Dogus, Co-Chairman of SME4Labour, highlighted the strengths of current Labour SME policies and called for the next Labour manifesto to go even further. Discussing prospects for SMEs in the context of Brexit and fast-moving geopolitics, Mr Dogus stresses that "it is vital that the voice of small and medium enterprise is not lost amidst all the noise" and reaffirmed the joint interests of Labour and small businesses, in generating local jobs and providing the glue which holds communities together.
Many speech makers commented on how encouraging it was to see women so well represented at the awards. In his speech, Sonny Leong, Co-Chairman of SME4Labour, highlighted the importance of shattering glass ceilings for women, saying "If women started businesses at the same rate as men, there'd be one million more entrepreneurs in the UK."
For more photos please click here.
SME4Labours new annual report can be found here.
SME4Labour relies on the kind donations of it supporters to continue to do its work. Please consider making a contribution.  
LABOUR EXCELLENCE AWARDS 2018
Trade Union of the Year Award
Unison
Fire Brigades Union – WINNER
Communication Workers Union
Union of Shop, Distributive and Allied Workers
Outstanding Contribution Award
Fabian Women's Network
Labour Council of the Year Award
Islington Council
Manchester City Council – WINNER
Liverpool City Council
Hounslow Council
Socialist Society of the Year Award
LGBT Labour
Disability Labour – WINNER
Shadow Cabinet Member of the Year Award
Diane Abbott MP
Rebecca Long-Bailey MP
John Healey MP
Dawn Butler MP – WINNER
MP of the Year Award
Alison McGovern MP – WINNER
Tulip  Siddiq MP
Dan Carden MP
David Lammy MP
Ruth Cadbury MP
Labour Peer of the Year Award
Baroness Shami Chakrabarti – WINNER
Lord Maurice Glasman
Lord Michael Cashman
Lord Andrew Adonis – WINNER
Elected Mayor of the Year Award
Philip Glanville (Hackney)
Damien Egan (Lewisham)
Rokhsana Fiaz (Newham) – WINNER
Constituency Labour Party of the Year Award
Ilford South
Tottenham
Wolverhampton North
Liverpool Walton – WINNER
MEP of the Year Award
Lucy Anderson
Seb Dance – WINNER
Richard Corbett – WINNER
Julie Ward
MSP of the Year Award
Monica Lennon
Johann Lamont
Jenny  Marra
Neil Findlay – WINNER
London Assembly Member of the Year Award
Unmesh Desai AM
Florence Eshalomi AM
Leonie Cooper AM
Joanne McCartney AM – WINNER
Dr Onkar Sahota AM
Labour Councillor of the Year Award
Cllr DannyThorpe
Cllr Matthew Brown
Cllr Aydin Dikerdem
Cllr Clare Coghill – WINNER
Cllr Melvin Collins
Cllr Mete Coban
Cllr Abdul Hai
Cllr Andrea Mann
Cllr Jas Athwal – WINNER
Friends Group of the Year Award
Labour Friends of USA
Labour Friends of Palestine and the Middle East – WINNER
Labour Friends of Bangladesh