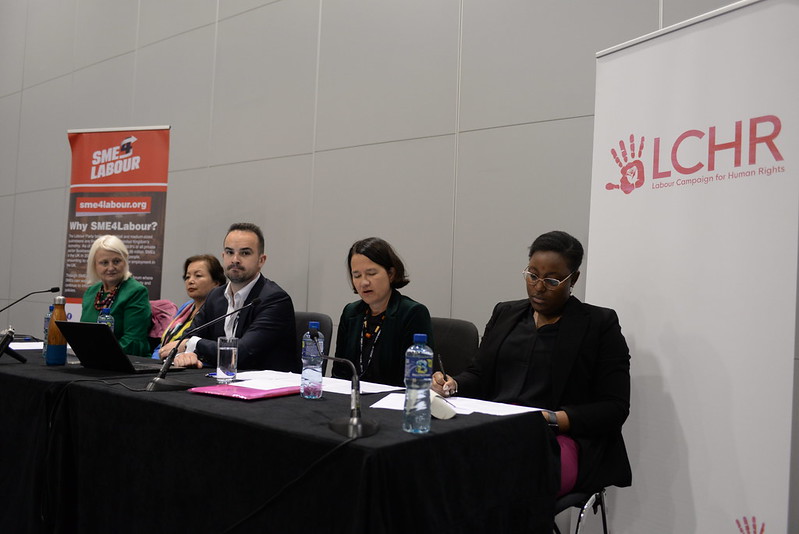 🗓 Date: Monday, 26 September 2022
⏳ Time: 15:30
📍Location: Lower Galleria Room 1, ACC Liverpool, Kings Dock Street, Liverpool, England, L3 4FP
SME4Labour Fringe: China's Surveillance State: Protecting public procurement from companies linked to genocide and oppression
Event summary:
We were joined at this event by Matthew Turner from the Campaign for Human Rights, Catherine West MP, Siobhain McDonagh MP, Taiwo Owatemi MP and Uyghur activist Rahima Mahmut.
The discussion centred on the presence of companies of Chinese origin that profit from the ongoing genocide of the Uyghur people within the UK, with specific reference to the procurement bill and what the Labour Party's response should be. Matthew Turner argued that we should support banning companies involved with the genocide in China from bidding for public contracts, meaning that British tax payer money cannot fund companies that assist or enable the genocide in Xinjiang.
Rahima Mahmut spoke emotionally of the treatment of the Uyghur people in Xinjiang. China has embarked on a policy of subjugation and destruction against the Uyghurs, using every tool at their disposal including modern face recognition technology. There are British and western companies that assist with this, inadvertently or not, and the British government needs to take action. This is not a moral action in a vacuum, we can materially impact the Chinese governments plans by sanctioning and divesting in the UK.
Siobhain unequivocally stated that China is committing genocide in Xinjiang. Siobhain stated that we must consider the notion of complicity, if we bank or invest with companies that profit from the Chinese government's actions then we are complicit. The Chinese security apparatus is embedded at many levels of foreign companies, and whilst the US Sanctions list labels companies as such the UK does not – weakening our ability to root out genocide supporters.
Catherine noted that those local councils are leading the way when it comes to divestment and sanctions against the Chinese government and that the Labour Party nationally continues to lead the way in supporting Ukraine & Belarus – so we must do the same when it comes to supporting the Uyghurs.
The room agreed urgent action was needed to combat the actions of the Chinese government in Xinjiang. This means ensuring that the procurement bill is able to actively sanction and punish those companies that profit from the suffering of the Uyghur people.
Speakers: